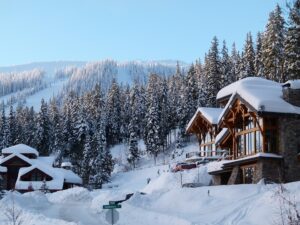 The changing of seasons, for most, signals that it's time to flock South for the winter to avoid the cold winter weather here in the Canadian Rockies – unless you are like us, who wait year-round for the snow to cover the mountain tops. If that's the case, you're probably packing up your things and getting ready to head to your winter home. That means it's time to winterize your home, especially your plumbing! What happens when you don't winterize your home? Nothing good; water damage, busted pipes, sewage spills, and more. 
Your trusted experts at Cascade Mechanical, located in Canmore, Alberta, have created a simple, 4-step process on how to winterize your home before you leave for warmer climates. 
Step One: Ensure You Have Shut Off Your Water. 
As discussed in our last blog post, how to prevent your pipes from freezing this winter, the number one cause of leakage, water damage, or a pipe burst, can be traced back to your pipes freezing due to below-zero temperatures. Unsure how to turn off your water? No worries, read more here. 
If you're not planning to be in your mountain home for the winter season, which here in the Rockies is half of the calendar year, you might as well turn off your water! – the first step to winterize your home. 
Step Two: Turn Off Your Water Heater
The next step to winterize your home, is to turn off your water heater. Whether you have a gas or electric water heater, this is a simple process. If you have a gas water heater, locate the gas valve and turn it to the right – ensure you close this valve before you drain any water. If the water heater in your mountain home is electric, you will have to turn the system off by selecting the correct breaker in your breaker box. Once completed, you may begin to drain the water that remains in the tank by turning a faucet on in your home until that water runs cold. 
Step Number Three: Drain Water From Water Supply Lines
Maybe, one of the most important steps on how to winterize your home is to drain your pipes and other appliances of any water. If not completed, the water that remains in your pipes will freeze, which can cause a substantial amount of damage to your home; pipe bursts, deformed pipes, water damage, and more! This all can be prevented by turning on your faucets once you have turned off your main water supply and let the taps run dry. 
Learn more about how to drain all water, including the very last drop, here.
Step Number Four: Effective Use Of Antifreeze 
Antifreeze will become your best friend when you winterize your home for the brisk season ahead of us here in the Canadian Rockies.
Did you know that even your toilet can freeze in sub-zero temperatures? It may be hard to believe, but it's true! Once your water supply to your mountain home has been turned off, and your pipes have been drained off all water, make sure you flush the toilet until it, too, runs out of water. Once you have completed this oh-so-satisfying game of 'flushed away', fill your toilet with antifreeze.
After reading how to winterize your mountain home before heading South, are you still concerned that you may return to your home with plumbing issues; broken pipes, a flooded basement, water damage, etc.? If so, call us at Cascade Mechanical, located in Canmore, Alberta, for all your plumbing or mechanical needs.